Sod Installation Process
SA Landscaping is your Local Sod Installer
Sodding your lawn gives it instant beauty without the time-consuming task of seeding. Deluxe's Landscaping Division can help you because we only install the finest top quality sod from reputable Sod Farms. You will be assured of a beautiful lawn.
Unlike other Landscape Installers – Deluxe Landscaping does not just weed-eat the grass and throw sod on top. We have an extensive process that was designed by top agriculture experts. We kill the existing grass/weeds, remove all grass/weeds, ground tilling w/ professional machinery, add started fertilizers, add organic topsoil, address drainage issues, ground preparation & leveling, sod rolling, proper watering and more!
Get your Sod Installed by Professionals!
Don't waste your time and money with people who are not trained!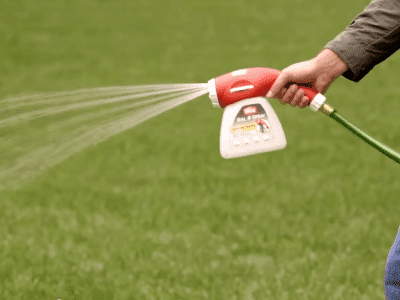 ❶ Grass / Weed Suppressing
We will Spray Roundup or Biosafe Organic Herbicide 3 to 5 days before the scheduled Sod Installation to Kill aka as Suppression of old or existing Grass & Weeds to ensure that the New Lawn is Weed Free!
❷ Grass / Weed Removal
The next step is to remove all existing weeds and grass in preparation for the roto-tilling process. Debri will be removed from the area and disposed of properly.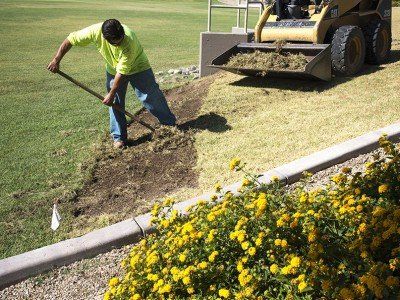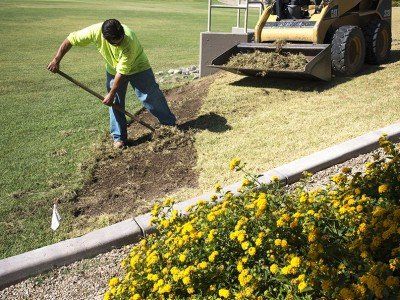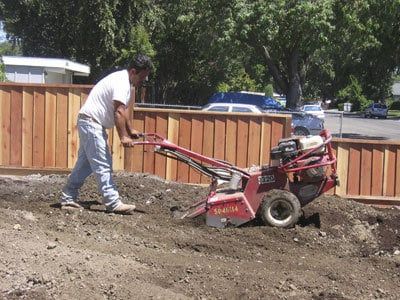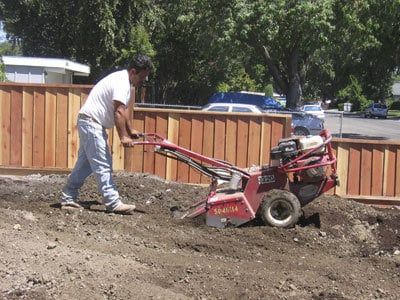 ❸ Dirt Roto Tilling
We loosen up the ground with a Professional Roto-Tiller Machine about 3 -4 inches deep. This will help create a faster Root Formation & Deeper Root System.
➍ Debri and Rock clearing
Then we Power Rake the Ground to remove any Grass & Weeds. This is also where we concentrate on getting the right grade levels for proper drainage and smoothness.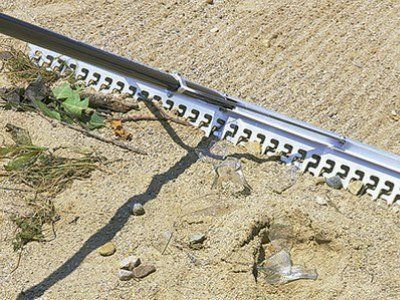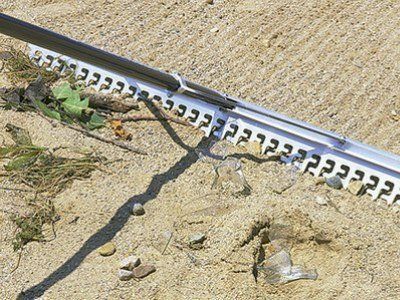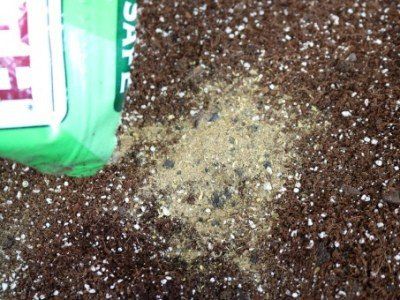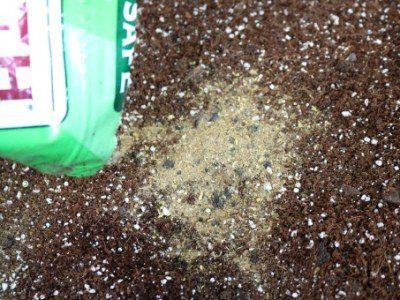 ➎ Fertilizer & Soil Amendments
A Starter Fertilizer will be added to improve the supply of nutrients in the soil that will allow the new sod to build a healthy root system.
➏ Ground Grading
Your lawn needs to be graded & leveled to make sure that water drains properly and edges are nice and smooth.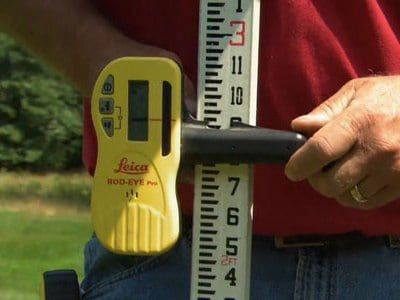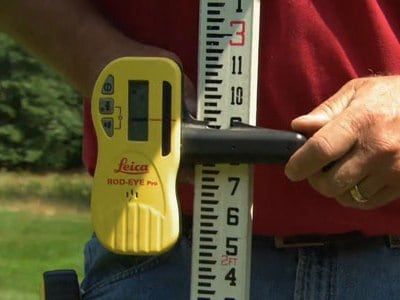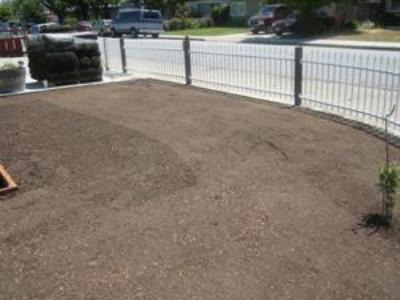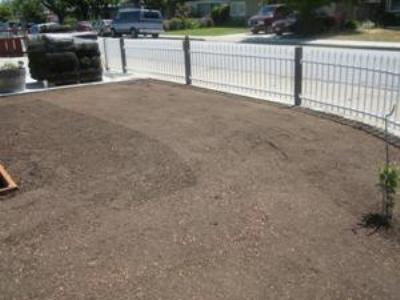 ➐ Ground Compacting
We will then push a lawn roller to smooth out the new soil.
➑ Sod Installation
We will Properly install your new Sod Pieces close together in a staggered direction for better root formation.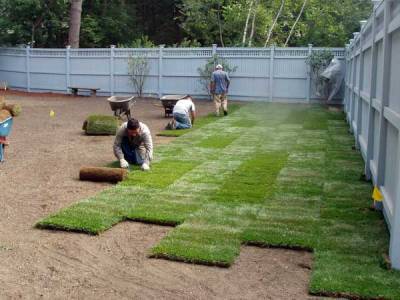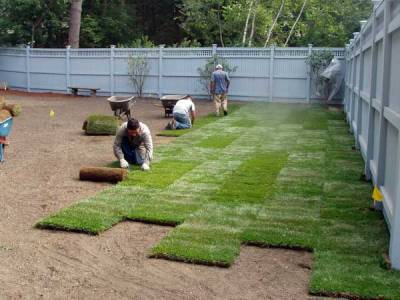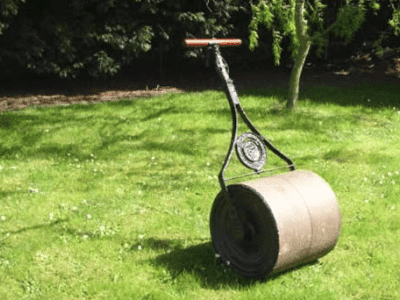 ➒ Lawn Rolling
We go over your new lawn with a Roller to make sure that the sod makes full contact with the soil to avoid bacteria air pockets.
➓ Watering
We will thoroughly water your new lawn – It is very important that the new sod gets watered thoroughly the first day.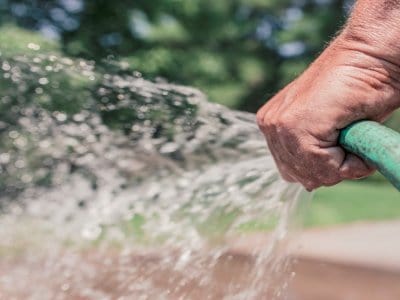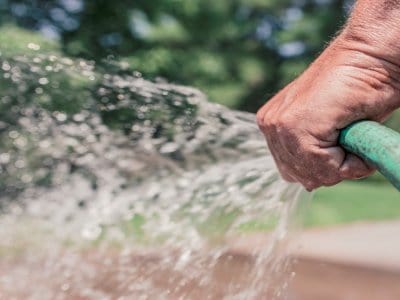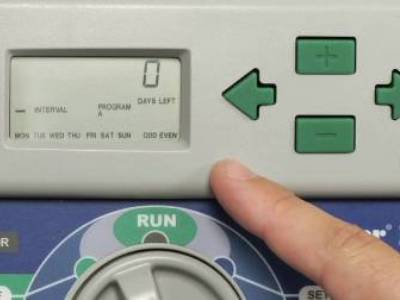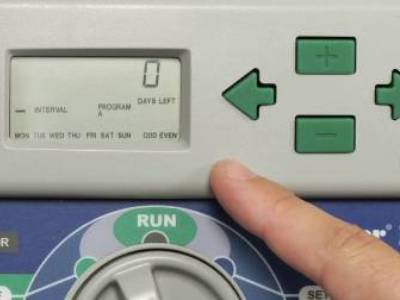 ⓫ Future Watering
We will program your sprinkler system to water your new lawn every day for the next week + we will provide you with a watering schedule for future watering
Did you know that Sod / Turfgrass is a natural filter?
It purifies water that passes through its root zone.
Sodding your Lawn gives it instant beauty without the time-consuming task of Seeding. Our Professional Landscape Installers can provide you with the finest top quality Sod around. You will be assured of a beautiful Lawn that will be enjoyed for years to come.
Brand new Lawns have some distinct advantages over old ones. You have the chance to add proper soil amendments, and you can choose a Turfgrass variety that is ideal for your climate, soil conditions, and level of sun exposure in the San Antonio & Surrounding Areas.
Contact Us for a Free Estimate. – You won't be disappointed!